Educational Apps reviewed  in August 2020

Being able to learn on the move is one of the most advantageous options which has been made available since the release of the latest generation of Mobile Smart Phones as it gives the user the chance to do away with games and what have you and replace them with enjoyable and detailed Education techniques.
The Iphone now has more of this style of application than ever before from a huge variety of app vendors so knowing which the best are for you can turn into a long and drawn out task. Mobile Reviews realize this so we have set about reviewing as many Iphone Education Apps as we could to see which we feel offer the most value and are the best for general use and information.
Below you will find a list of the top three apps we feel are more than worth a mention as they offer the best service you could wish for and are easy to use by all.
Star Walk 2 Educational App
The first of these apps we feel is brilliant throughout is the Star Walk 2 Education App which in its basic form is an extremely detailed astronomy app which allows users to view many different things across our known universe. This education app is great for fans of astronomy to use to view many different star constellations as well as tracking certain comets and other moving items in space. It is also very good for learning about the planets in our solar system as you can now view them whenever and wherever you wish to using this top app. The app is very well laid out with all the features easily accessible to the user within a click of a button.
One of the biggest pulling points of this Iphone education app is the fact that it is by far the most accurate of its type and takes you into much more detail than any other similar app that has been released to date and this is why it tops our list of the best educational applications.
Minecraft Educational App
One of the latest gaming educational tools that are accessible on a mobile phone or tablet is the Minecraft App for the iOS app.  This helps all ages learn how to build almost anything they want to virtual, with some fantastic creative options included.  The game is available on other platforms too, such as Xbox, Playstation, Nintendo Switch, Android devices and computers.  There are various Minecraft educational resources available as well as some cool Academic based resources for Minecraft Map Building to learn from too.
A Minecraft App Image Example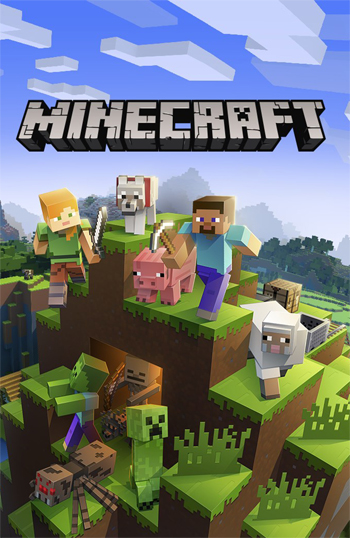 Symphony Pro Education App
The next education app on our list is the Symphony Pro Education App which is an all new and completely innovative music technology app which allows users to access a multitude of musical data. The app allows the user to learn about and then compose a huge variety of music for many different genres from classical to modern dance. The app uses a very unique and detailed perspective to teach its users all the scales and chords in music and how to apply them to their very own tracks. Again the app is very set out and offers great visual demonstrations throughout which are some of the most interesting we have seen to date. The app will also teach you about musical terms such as arpeggio, trill, accelerando, glissando, staccato, tuplet, clef and time as well as much more. We reviewed this app for many hours and even though none of us had any musical knowledge we were able to create many different melodies and so on using this app and it was great fun doing so.
Intro Letters Writing App
The final Education App we just had to include on our list is the Intro to Letters App which we found to be absolutely phenomenal in every way as it offers the chance for your children to learn how to write and use all types of numbers and letters. The app uses very simplistic techniques to enable young children or adults who are unable to read to learn how to create sentences and phrases with letters that they will learn along the way. The app is simple to use even for a child and has a huge amount of features and concepts for teaching people how to read and write. The app has no glitches or errors and is very free running from start to finish and fully deserves to be on our list of the top educational apps.
Dont forget to check out our Top Television Apps here too or why not listen to our Mobile Podcast below: